Are you looking for Tyres Size for your vehicle?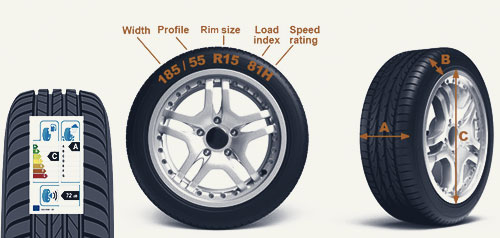 Every vehicle manufacturing company spends a significant amount of time researching and finding the perfect tyre size for a particular car model. This tyre size ensures optimum driving performance and handling safety.
This "tyre size" is mentioned both in the owner's manual that comes with the vehicle and the car tyres' sidewall. It is essential for you to understand the tyre size meaning before buying a new set.
You can buy your new tyres from us, - London's Mobile Tyre Fitting. Our online tyre configurator can help you to find the right tyres with only a few clicks. Otherwise, our experts are well trained and always happy to help you when buying tyres London, and they will suggest only those models that enhance your vehicle's safety and performance.
How to understand the tyre size code?
Let's take an example to decode the tyre size meaning: 225/50 R17 98H
From left to right, the first number is "225", representing the width of this tyre in millimetres.
Next is "50", which denotes the height of its sidewall. It is not the exact height but a ratio between its cross-section and the given width. From the number, we understand that its height is 50% of its total width.
The alphabet next to aspect ratio represents the type of tyre construction. Here, R corresponds to radial construction.
The number "17" represents the rim diameter of this tyre, expressed in inches.
This tyre's load index is represented by "98". Here, "98" refers to a maximum load-carrying capacity of 750 kgs.
Finally, the alphabet "H" represents its speed rating index. It is the maximum speed at which this tyre can run safely when optimally inflated. In this case, it is 130mph.
If you have any other question, please call us before you buy car tyres London. Hence, instead of going through the hassle of searching "tyres near me", you can consult our professionals and buy the proper-sized tyres for your car.